Here at Yipmage Moments, we specialize in shooting pre wedding engagements and actual day weddings with 1 philosophy in mind, Capture True Emotions, Document Real Weddings. 
You can engage the best photography company for your wedding and get posey Insta-worthy photos but if they can't help you be yourself during the shoot, its gonna be a staged wedding instead of a real wedding.
For us, we don't want that.
We understand that not all couples are used to having a camera pointed at them while being themselves. That's why couples and families engage us, to guide them throughout this photoshoot process, allowing the them to be their truest selves, being comfortable in their own skin such that they can show happiness and joy in their own way. 
Of course every couple is different, and it is important for you to know that we do not mould any couples to fit a certain style. We capture every couple for who they are. Extrovert couples, shy couples, adventurous couples, forbids-all-cringe-poses couples, ANY couples, we would love to capture true emotions for you, so long as both of you allow us to!

It is also important to enjoy the wedding photoshoot process as it's not only the photos that matters, the experience of creating those images are equally as important as well. Wedding photography in Singapore has evolved too much commercially to the point that it has lost its purpose of capturing true emotions, we want to bring that back for you.

Take your time to view these timeless moments with more emotions than just your eyes.
These moments are more than just beautiful photos, feel what we felt when we were there with them.
Drop us a quick message here!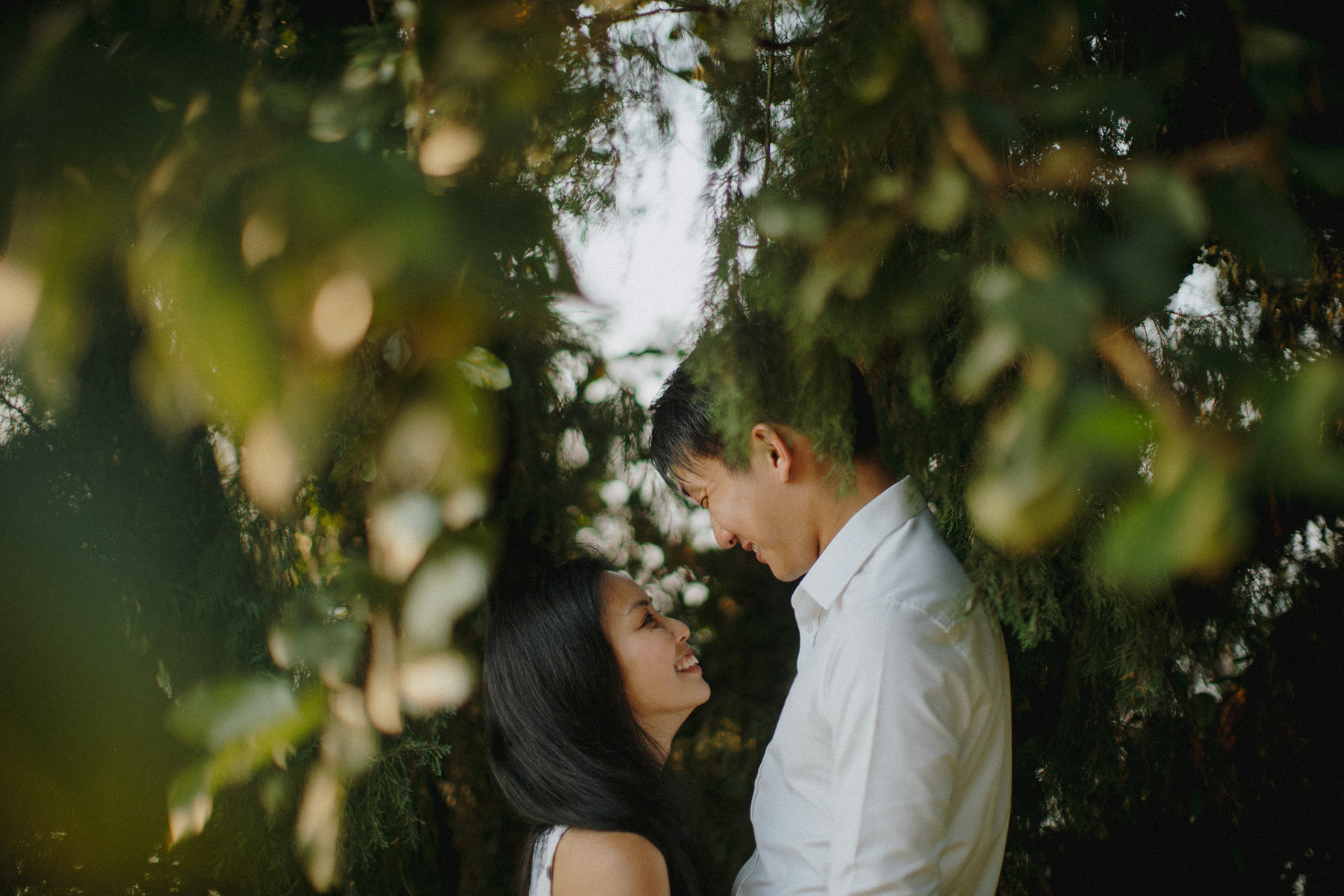 ​​​​​​​
Just had our wedding recently and my husband and I would like to give a big shout out to our photographer Alcan!
We are really impressed by his professionalism. He was on time very early in the morning and accommodated all our excited family members requests for more pictures together throughout the day till after our banquet. Despite such a long day and sunny weather during our outdoor group photo-shoot earlier in the day at Jurong Lake, there was never a moment whereby his bubbly, friendly, creativity and enthusiasm went away. The entire day photo-taking and communication was a breeze with him!
Our families and friends are also impressed with the speed and quality of all the wedding photography Alcan sent to us very quickly after our wedding. Each of them was well taken with good angles and creative style that brings us back to the particular moments and emotions on that special day every time we look at them.
Really thankful to Alcan for being our photographer and capturing all the beautiful memories that we wanted for our wedding photos. My hubby and I would highly recommend Yipmage Moments to our family members and friends who are getting married!
Hong Zheng & Jazreel
Impeccable photography service; top-notched shots!
We engaged Mathias as our wedding photographer as early as in 2019 through a friend's recommendation. Before we decided to engage Mathias, he arranged for a chat with us so that he could show us photos from his previous shoots (pre-wedding and actual day) and to let us have a better sense of his style. Through the short 30-minute chat, we could already feel his dedication and passion for wedding photography - he remembered every couple he shot for and the unique points from each wedding/ pre-wed shoot. Absolutely incredible! Moreover, we understood that he is not one who would ask for posed photos during the actual wedding day (except for group photos) and we liked that he is very good at capturing raw emotions and candid moments.
When our original wedding date was affected by Circuit Breaker, Mathias was beyond understanding of the situation (even when his business was severely affected) and allowed us to postpone the contract to a later date. He also proactively checked in with us if we needed any help or advice on proceeding with our wedding as and when the Government rules on weddings and solemnisation ceremonies relaxed over time.
At last, when we finally could proceed with our solemnisation and luncheon, Mathias was once again very helpful with planning our day's itinerary. On the actual day, he reached early and swiftly got into action in preparing the shots that he envisioned to take as we moved along the day. Due to the shorter lunch period at the restaurant, Mathias converted the remaining hours of our 10-hour package to a very fun and relaxing evening photoshoot! Super thankful for that as we could enjoy the photoshoot in a relatively cooling weather and had a chance to rest beforehand. He also took the effort to recce a beautiful place (please ask him!) with almost nobody around - that made our photoshoot so much easier and fuss-free. What's most impressive was how Mathias managed to make us feel at ease throughout the shoot and I guess that makes him skilful in taking natural-looking couple shots (as opposed to just forced/ awkward smiles)!
Within the week, we received all our photos - talk about efficiency! Our family spent an hour looking through all the photos, and we had such a good time reminiscing on (and at times, laughing at) what happened during our wedding. Indeed, Mathias is very good with capturing natural, candid moments and we truly appreciate his efforts in making sure that he caught my guests in action, especially when we weren't around. The post-wedding photoshoot shots were equally, if not more, awesome too - we certainly love every single photo!
All in all, if you are looking for a photographer who can give you a fuss-free experience and capture raw emotions on your wedding day, look no further - engage Yipmage Moments!
Gordon & Li Yu
10/10 would highly recommend Mathias and his team! We engaged Yipmage for our actual day wedding photography, I love that his style was to capture all the raw moments, nothing too posey, very natural. From the start of the conversation I had with Mathias over Whatsapp, I knew he was very professional and 100% trustable, he was very easy to talk to as well (I think it's important to have chemistry with your vendors so it makes things easier during the planning and actual day). He even recommended a bridal studio (which I got my gown from eventually! Amazing service & gown selection as well) and a make up artist. He's also very responsive whenever I had an enquiry.
Prior to the actual day, we met up to go through all the details like the timeline of events. Having no experience in this, he was able to provide some suggestions based on their experience which I found really helpful! He also familiarize himself with the floorplan of the venue and suggested how & where we can do our bridal entourage shots. One thing that I really appreciate was that he asked if there's anything in particular I would like him to focus on capturing (e.g grandparents, family, friends, tea ceremony, gate crash etc).
On the actual day, Mathias and his 2nd PG reached our hotel super early (they were my first vendor to arrive!) and they had everything set up & did their test shots. Really punctual! He manage to capture really raw intimate moments between me & my parents, and because there were 2 of them, they were able to cover all the different angles and the important shots throughout our wedding.
Just 2 days after our wedding, he already sent me the sneaks (100+) edited photos?! and 3 days later he sent me the full album! Really really impressive on the delivery of the photos. IT ALL TURNED OUT AMAZING. Everything was very well captured, all the crying from family members, me walking down the aisle and my husband's reaction, family & friends reaction during our speeches etc was all beautifully captured.
Another thing that I think is important is that all your vendors are able to work well together and they did just that. Mathias and team was able to coordinate well with our videographers, they were not getting in each other's way, helping each other with lighting and shots and it just made everything that day really smooth & worry-free for us.
All in all, 101% would recommend them to everyone, you won't regret it & rest assured you're in really really good hands for your big day or photoshoots!
Benedict & Richelle
My wife and I were really impressed with the quality of work and production done by Yipmage Moments. Our photographer, Mathias, managed to capture loads of candid images that really captured the love, laughter and joy on our special day. He was tireless throughout, and his dedication really shined through especially during the times when we had to shoot outdoors. We were also amazed that we did not really need to pose for almost all our pictures, and they therefore all came out very naturally. Mathias also showed great improvisational skills as he managed to frame our shots perfectly, just capturing us and the settings we really liked and wanted.
I think all of us here understand that there is an intrinsic value to recording and capturing the best moments on the best day of our lives, and that this value is priceless. Mathias has an amazing aura of professionalism which made us really trust his skills, and I must say that we were both extremely glad to have put our faith on Yipmage Moments, and happy that they have delivered beyond our wildest expectations. We are so glad to have found them, and to have Mathias capturing all the emotions of that very emotional day, which will become memories which we can forever look back on.
We would like to sincerely thank Yipmage Moments (Mathias) again for their amazing work and dedication to capture all the greatest moments of our special day. I give them the very utmost of commendations.
Melvin & Vanessa
My husband and I had our pre-wedding photoshoot and actual day photography done by Mathias from Yipmage Moments.
Mathias' style leans more towards capturing candid and intimate moments instead of the usual posey shoots that the market offers in general. This was exactly what we were looking for and it helps that Mathias is also a friendly, down to earth and humble young man. Even though, my husband and I are very awkward people in front of the camera, Mathias still managed to guide us through with some poses to help ease the awkwardness. He made the sessions very comfortable and fun for us. Mathias also gave us a list of venues to consider for our pre-wedding shoot, making our research job a lot easier.
Mathias was always early for the shoots. In fact, he arrived at my place 30 mins earlier for the actual day shoot! His dedication and professionalism in his area of work shone through during the two sessions we had with him. Best part was, he sent us our photos earlier than the stipulated timeline on both occasions. We've heard quite a number of our friends and relatives having to wait months for their photos but we got ours in less than a week and they were absolutely stunning!
Definitely highly recommended! 
Justin & Felicia
Like most couples, we were apprehensive about hiring the wrong photographer since the photos produced will be what we fall back for for memories and we were so glad that we went with Yipmage - Mathias and his team did not fail us.
Prior to our wedding, Mathias is patient and responsive in handling our 101 queries. During our pre-wedding meet up, he took time to understand how we met, our wedding theme and our expectations so that he has a better gauge of the feel and photo perspective that we will like since photography can be subjective. After our discussion, he assured us that he will be the photographer for our wedding since he knows best of what we want. That was a great assurance to us as we have heard so much about wedding studios giving the projects to external photographer whose delivery is not up to whatever that was discussed. Mathias also took time to Reece our wedding venue so that he will be well prepared with the right equipments on the actual day. Apart from being responsible, Mathias is easy-going and to the best of his ability, he is flexible in accommodating changes which is really important in wedding planning since uncertainties and hiccups do arise.
On the actual day, Mathias arrived earlier than expected to set up and knowing what we wanted, he was able to work independently to capture the moments. Our guests also enjoyed the photo booth and the table to table photography where they could bring the photos home for memories. The props and printing at the photo booth were of quality and Mathias and his team were honest with the timing - the time needed for setting up and packing were at their own expense, not part of the time slot we engaged them.
The good service of Mathias and his team didn't just end with our wedding and payment.
They put their heart and soul into the post-editing of our photos. At the end of their editing, we were surprised to receive a stack of selected photos nicely packed in a box and a beautiful thumb drive with all the other photos stored.
Being a photo-lover myself, I loved the tone and composition of the photos and the candid moments that Mathias captured. The many restrictions that we had due to our venue and ceremony did not limit Mathias in delivering an amazing photographic representation of our holy matrimony and luncheon - and yes, Mathias is familiar with the procedures and requirements of Christian weddings and he knows what to look out for.
We really appreciate the efforts that the team has put in every detail of our photography journey. Thank you so much!
So for couples out there who are searching for a reliable, good and hassle-free photography experience, do consider Yipmage Moments. They are worth your time and money. Cheap doesn't mean good, good doesn't mean cheap. But for Yipmage, they are good and reasonably-priced.
Leonard & Cindy
From the first interactions with Mathias, we knew that he was the photographer we would want for our wedding. We didn't bother looking for others and he proved us right from the start. Not only were the replies prompt, he showed us the style that he shoots that matched what we were looking for. Clean and bright were what we love about Mathias' shooting style. His dedication in his work showed that being a wedding photographer is more than a job but a learning journey. He even shared with us some photography tips, knowing that we are into photography too. He even brought portable spotlight that makes the room so well-lit. The best part was we received our photoshoot photos within a week and the AD photos within 3weeks! He was even more anxious that we show our relatives our photos during Chinese New Year that we had to choose 50 photos which he delivered on the eve of CNY! We are very thankful and happy with all the captures that we could look back on all the time. Thank you Mathias for doing more than what we expected! Definitely the one we would recommend all the time!

Tyler & Pauline


Love what you're seeing and considering us to be part of your wedding? Let us know!
Thank you for your enquiry! If you do not hear from us within the next 2 days, do check your Junk/Spam mailbox or contact us directly at +65 9654 3269 via Call/SMS/Whatsapp!
Or drop me a message directly at:
Mathias Yip
+65 9654 3269